Holistic Health Practitioner
PhDc Holistic Health Practitioner
Holistic Health Practitioner Bahman began learning and practicing massage and manual therapy in Germany almost 2 decades ago. He discovered that he not only enjoys but is also exceptional at relieving THE SOURCE, NOT ONLY THE SYMPTOMS of client's acute and chronic conditions.
Many of these conditions other medical professionals have not been able improve. His focus is to help men, women and children find lasting relief from their physical ailments by using the modalities and protocols best suited to their needs. Bahman is well-known for his outstanding ability to relieve the pain and disability of a great variety of ailments and injuries, from frozen shoulder syndrome to sciatica. He now works out of a Coronado spa with all kinds of clients, from prenatal mothers to surgeons to high-performance athletes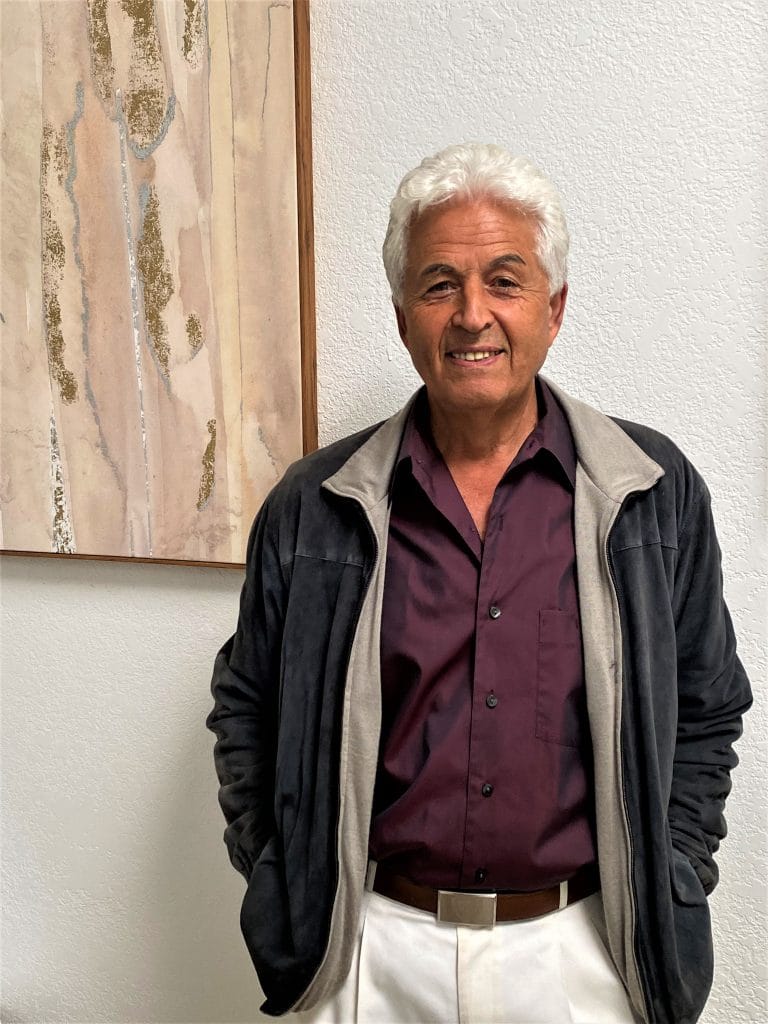 Some of his credentials include:
Over ten thousand hours of rehabilitative bodywork training and experience
 19 year seasoned professional in rehabilitative bodywork
 Holistic Health Practitioner License #25620
 Nationally Board Certified in Therapeutic Massage & Bodywork (NCBTMB) #420725-00
 Advanced CranioSacral Therapist
 Certified NeuroKinetic TherapyTM  Practitioner
 Receives regular referrals by Orthopedic Surgeons, Medical Doctors, Physical Therapists, Chiropractors, Dentists, Psychologists, and other Bodyworkers
At Global Holistic Solutions, we tailor each session to address your goals and needs.
Bahman Djalali, PhD(c), HHP, NKT, CMT
(619) 957-3114
Read more on The Coronado Times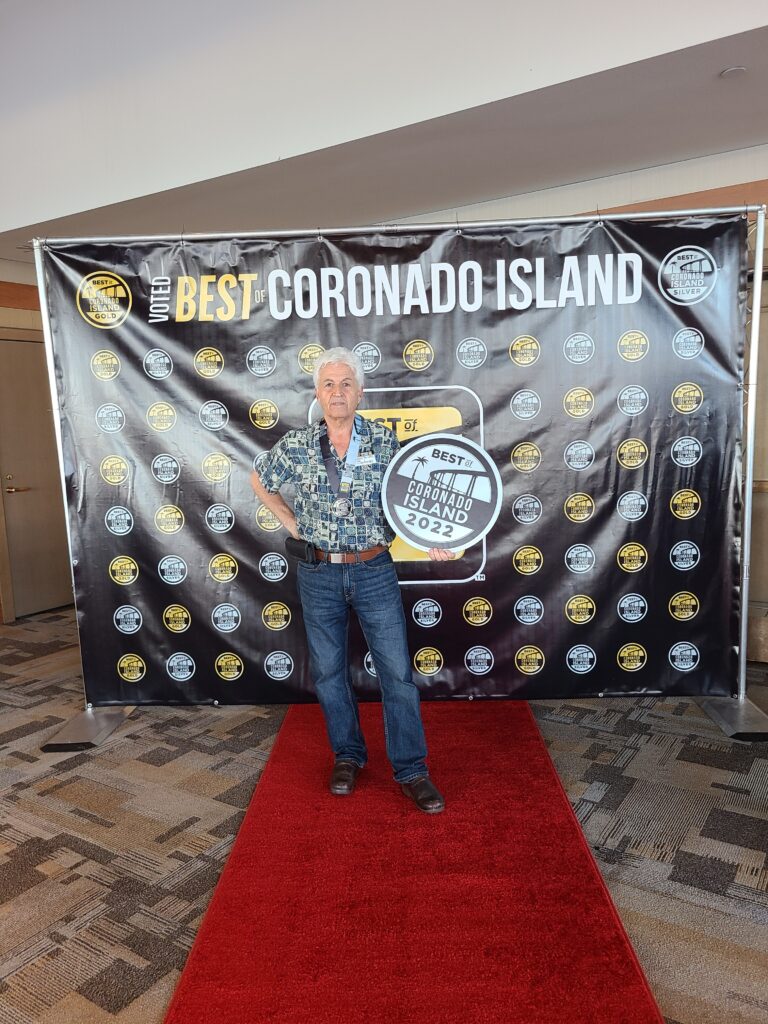 Customer Reviews
After suffering from chronic back pain that affected my sciatic nerve, hip, and legs, I sought the help of Bahman. From the very first session, I noticed a significant improvement in my condition. Bahman provided me with personalized care and an effective treatment plan that helped alleviate my pain and improve my quality of life. With just a couple more therapy sessions, my pain was fully resolved, and I was able to resume my daily activities without discomfort. Bahman's expertise and dedication to his patients were evident throughout the entire process. He was attentive to my needs and concerns, and I felt comfortable and supported throughout my treatment. I highly recommend him to anyone who is struggling with chronic pain or other related issues. His skill and knowledge in pain management therapy are exceptional, and his personalized approach to care makes all the difference. Thank you, Bahman, for your help in getting me back to feeling like myself again.
I have been going to Bahman for a number of years. Results have been tremendous. His knowledge of the body coupled with a remarkable ability to address specific issues is superb. Back, neck, shoulder it did not matter, he was able to provide relief from pain and guidance on how to address issues in the future. Five stars and two thumbs up.
I came to Bahman with horrible headaches, neck, shoulder, and back pain and he was able to help me tremendously in one visit! I will be going back for maintenance care, to help with my TMJ. I highly recommend him to anyone looking for pain relief or relaxation.
Bahman is truly a professional, and probably one of the best in the business. Magic hands! I'm in the Navy and stand for hours on end killing my lower back. One visit with him had me feeling right, will definitely continue to see him regularly!
A great experience will return regularly for a bum shoulder. Thanks
My name is Alicia Guillen and I absolutely love Bahman/s massages. I have been getting massages for over 25 years and i can say without any hesitation that he is the absolute best.
From surfing, ju-jitsu and working out at the gym I have trashed my body. I recently had to get some work done because my tight muscles and body was not allowing me to perform my job at the best of my ability. Bahman really took massage work that I am used to the next level. My range of motion was superb and the pain that I had during work was relieved. He performed more on me that I expected and I would def. recommend him to anyone looking for answers for their chronic pain.
I found Dr. Bahman through a very close friend. He was literally my Christmas gift. I have had extreme problems with my shoulder for over a year. In desperation I went to Dr. Bahman, in one visit, I was able to raise my hand without pain. I purchased a 5 visits package and am on my third one. Each week, I continue to improve and for the first time I have hope. The best thing about Dr. Bahman is he is very generous with his enormous knowledge of supplements, nutrition. Most importantly for me is he has tapped into my spiritual side and is guiding me to a higher lever of understanding between the conscious and subconscious. He gives me weekly homework assignments and as he works on me, we discuss what I have learned. I feel extremely lucky. He has touched my heart and soul. Thank you Dr. Bahman!
My mom recommended me to Bahman and I love it! It has helped me so much!! I totally recommend it to anyone and everyone! Defiantly will leave happy!
Bahman is absolutely amazing. Upbeat, knowledgeable, makes you feel comfortable, professional, and best of all. ..absolutely skilled in the art of finding your trouble spots and paying special attention to them!
Letter Regarding Dr Djalili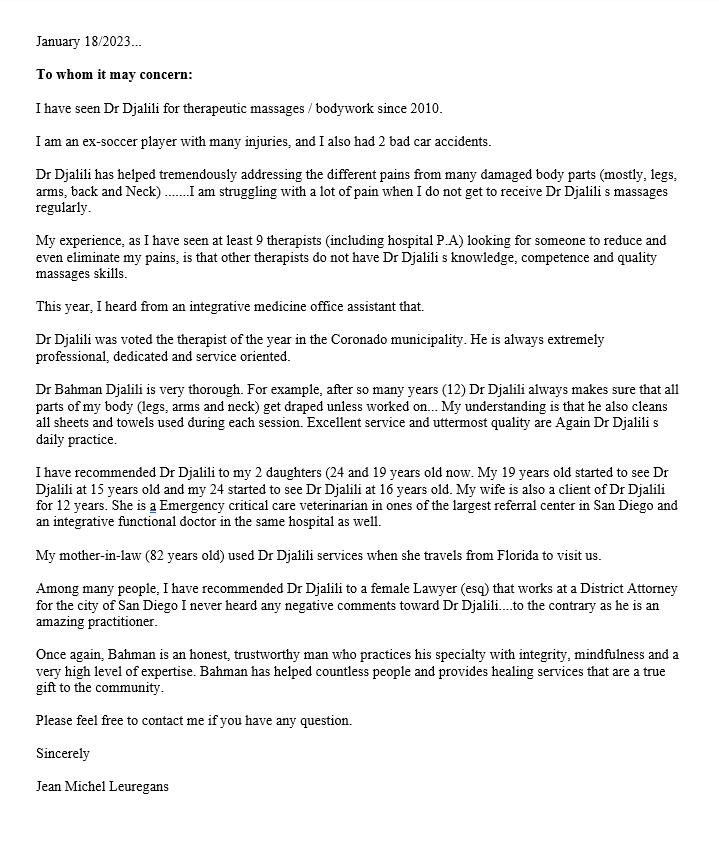 Reference to Holistic Health Practioner Bahman